About Karin E. Young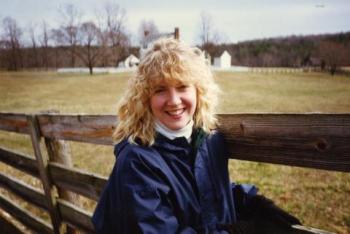 Karin E. Young was born in West Islip, New York, and attended the State University of New York, Geneseo, where she earned a Bachelor of Science in Communication Sciences and Disorders. She continued her studies in Audiology at the University of Maryland, where she graduated with her Master of Arts in Audiology in 1989.
As a clinical audiologist, Karin was instrumental in establishing The Listening Center at Johns Hopkins , one of the first centers to provide comprehensive services for children and adults with cochlear implants. Karin was dedicated to the promotion of the cochlear implant program and to improving the lives of patients with hearing disorders. She was a committed practitioner, supervisor and colleague. Karin and her family are members of the Terrapin family—her husband, Scott Young, has worked in Resident Life for 24 years, and they met on campus during graduate school. They have two daughters, one who currently is a student at the University of Maryland and one who is an alumnus of the HESP undergraduate program and who is pursuing her AuD at University of Connecticut. Karin was an active member of St. Joseph's Catholic Community and enjoyed music, the outdoors and spending time with family and friends. Karin passed away in January 2015.
To honor Karin and to continue her legacy, Karin's family has established the Karin E. Young Memorial Endowment for Hearing and Speech Sciences which will provide scholarships for undergraduate students in Hearing and Speech Sciences who are interested in pursuing a career in audiology.
On-line giving is available and gifts in memory of Karin can be made via check to the University of Maryland, College Park Foundation, Inc., with "The Karin E. Young Memorial Endowment" written in the memo line, and mailed c/o Jennifer Kilberg, 2141 Tydings Hall, University of Maryland, College Park, MD 20742. 
Application 
The Karin E. Young Memorial Endowment is a scholarship award for students majoring in Hearing and Speech Sciences who intend to pursue a career in audiology. This will be an annual award that is specifically intended for students currently in their Junior Year, or those who will be graduating in December 2023, May 2024, or August 2024.
To be considered for this year's award:
Print and complete this Application Form
Attach a brief essay about yourself and your interest in audiology (no more than 500 words) 
Attach a current resume and a copy of your unofficial transcript.
Please submit your application online to Jared Novick, jnovick1 [at] umd.edu, no later than Thursday, March 30, 2023
Last modified
01/31/2023 - 1:36 pm